Enter Dates & Size of Group...This will provide all Retreats Available
...Or Scroll to Right (Use Upper Left Arrow Control)
OFF SEASON, Great Time of Year
The offseason (November to March) is a wonderful time to stay with us and explore the area all at significantly discounted rates.  So much to see and do.  You will love any of our eight homes.
Holidays
Still have some Christmas and New Years availability at some of the Retreats. All remaining dates for December through January 4th on now discounts 15%.  Use code XMAS15.
Reservations
LAKE LEVEL
R8 with Pool!
Summer 2023 (Full Lake?)
VRBO, Airbnb and our Direct Platform all have 2023 now available.  Book early for best dates as it looks like we will have a full lake!
If you do not see the dates and house you want, join the WAIT LIST.  We tend to have many changes/opportunities.
Lake level varies since Shasta is a reservoir.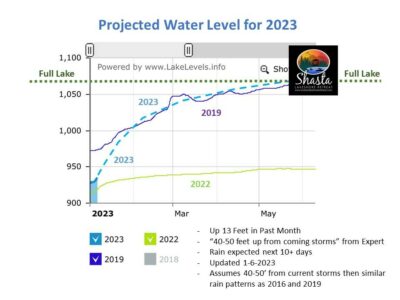 Summer 2024
Although it is not available yet on the booking sites, please give us a call if you would like to reserve a date for Summer 2024
Reservations
WAIT LIST
400' of Shoreline
WFL?
WFL = Working from the Lake.  What could be better as you work remote than being able to look out at the mountains and the lake all days as you work with our high speed WiFi.
WINTER AT THE LAKE
Our guests have found that the winter at the lake is also a great time of the year.  Although you don't have to book as early, almost every weekend does book up in all 4 homes.
Luxury at the Lake
All Retreats
Book any combination of homes for groups of 10, 12, 14, 22, 24, 28, 38, 50, 62, 72, 86 or 100.  Just book each separately or call us.
Call if interested or questions.  925-200-6934.   If interested, we will provide you a multiple home discount, just call or email.  ShastaRetreats@gmail.com
MINIMUM STAY
Minimum of 2 to 5 nights.  Normally 3 nights in the Winter/Spring/Fall and 4 to 5  nights in the Summer.  We do offer 2 nights when in-between two other reservations and randomly throughout the year.  We also have a few one nights available in the off season.  Look at calendars.
RESERVE WHEN?
To have a pretty good chance of finding some days that will work for you, we recommend you have a Reservation as follows:
Summer:
9-18 Months Prior (or when we open up)
Spring/Fall:
3-6 Months Prior
Winter:
1-3 Months Prior (non-holiday)
Ready to Book? Click here
REDUCED RATES
Consider Fall, Spring and Winter for lower rates.  The first half of June and the second half of August are slightly lower than mid summer.  September is less also and one of the best times of the year.  See the graph/chart on "Rates" page more information on approximate rates through the year and what activities are still attractive at that time frame based on weather.
Boat Rentals
SPECIALS HERE
Retreat 1
Retreat-2