LATEST CONDITIONS:
Currently no fires in the area.
OVERVIEW:
As we communicate with our guests, fires are unfortunately common in this area and more frequently throughout California.  Fires in the general area can bring smoke in at times and you should plan for this during the summer (especially late summer) and fall as it is unpredictable.  Although most days are beautiful blue skies, your stay may include smoke.  People who would like to avoid smoke or are sensitive to smoke should avoid booking our homes and other places in Northern California summer/fall.
IMPORTANT NOTE:  We are providing this as additional information for our guests and other people that use our web site as a source of information.  We are not experts, please use other sources of information as desired.  We can't be liable for the information we provide.
We want to thank all the hard working firefighters and first responders for their service and our thoughts are with those impacted by California fires.
We can't be responsible for smoke in the area and smoke is not a valid cancelation reason.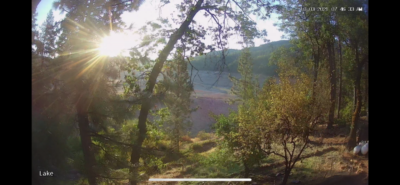 Blue Skies return to Shasta.  Photo Oct 3, 2021.
Shasta County Fire Department
Cancellation Policy
CAL FIRE MAP
Air Quality
BELOW:  Photos of Smoke at Different Levels including Fires on the Shores of Shasta Lake (not currently the case)