Privacy in style on multiple acres.
One of our largest and nicest retreats.
SWIMMING POOL! (Seasonal)* and Hot Tub
4 large bedrooms, 3 full bathrooms
Sleeps up to 14 (Max 12 Adults)
Game Room:  Garage made into large game room with pool table, foosball, darts, no host bar and sitting areas (no Sleeping).
Located on Scott Creek side of Lakehead.
Short 5-15 min drive to lake and boat ramps.
View of the valleys, mountains and partial lake. 
Large two story high windows that capitalize on views.
Large deck and pool area.
Many indoor and outdoor games
BBQ, 2 gas firepits, patio heater, two patio tables.
Central air conditioning & heat.
Great boat/ATV parking plus multiple cars (up to 7).   Multiple Boats OK. (Bumpy Dirt/Gravel Road)
Loop driveway for easy boat parking.
Fully Furnished  – Towels, Linens, Dishes, 6 HD Flat Screen TVs,  Internet, Dishwasher, Stove, Refrigerator, Microwave, Washer and Dryer, Backup Generator
Bedding:

Bedroom 1:  Master, King Bed, Desk, Balcony, Pool View, Bathroom, Twin Pull Out Sofa Bed
Bedroom 2:  Queen Bed, Twin Rollaway Bed, Balcony
Bedroom 3:  Queen Bed, Balcony
Bedroom 4:  3 X Tall Twins, Full Size Sofa Bed, Slider
Other:  Queen Sofa Bed in Living Room

Pet friendly.  $120 per pet per stay.
10-15 minute drive to our other Retreats.
* Pool is NOT heated but should be warm in Summer.
Note:  Lake Level changes accessibility.  See lake level page on this website.
Additional Information
Scroll to the bottom of this page for a more detailed description.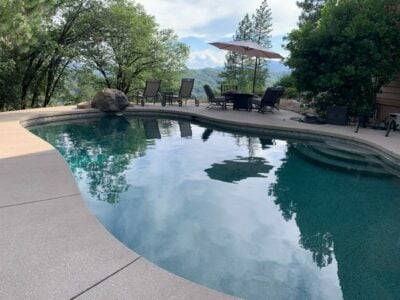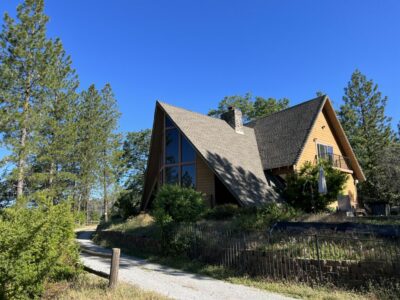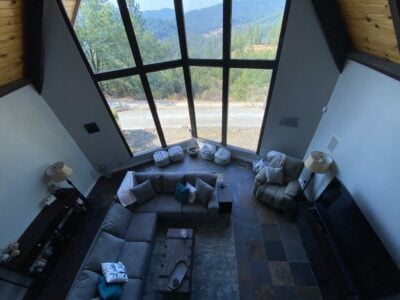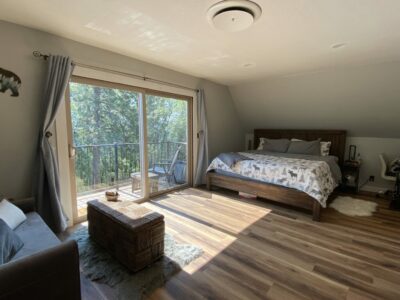 Retreat #8 Video Tour (New 2023)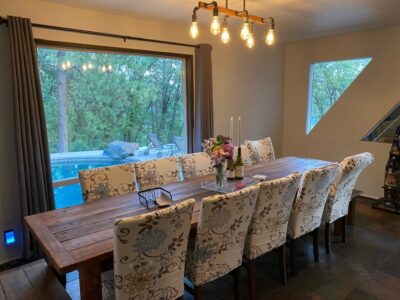 Private Oasis
Welcome to your very own private oasis, where privacy meets style on multiple acres of serene beauty. This luxurious vacation home is one of the largest and most exquisite retreats we offer, promising an unforgettable escape you won't soon forget.
Step into a world of relaxation and recreation as you're greeted by a splendid private SWIMMING POOL and a rejuvenating Hot Tub. Whether you're lounging by the poolside, taking a soothing dip, or unwinding in the bubbling hot tub, the pleasures of this retreat know no bounds.
This spacious haven boasts four large bedrooms and three full bathrooms, providing comfortable accommodations for up to 14 guests, with a maximum of 12 adults. The entertainment possibilities are endless in the expansive Game Room, thoughtfully located in what was once a garage. Challenge friends to a game of pool or foosball, try your hand at darts, or simply relax in the no-host bar and sitting areas (please note, no sleeping is permitted in the game room).
Set against the picturesque backdrop of the Scott Creek side of Lakehead, this retreat offers a retreat to nature's splendor while being just a short 5-15 minute drive from the lake and boat ramps. The views are simply breathtaking, encompassing valleys, mountains, and a partial view of the lake. The large two-story high windows beautifully frame these vistas, ensuring that the natural beauty is never out of sight.
One of the defining features of this retreat is its ample outdoor space. A large deck and pool area invite you to bask in the sun, while numerous indoor and outdoor games cater to the playful spirit within you. The multiple gas fire pits, patio heater, and two patio tables create an inviting space for socializing and barbecues. Enjoy the warmth of the central air conditioning and heat, ensuring your comfort in any season.
Plenty of parking is available for boats and ATVs, accommodating up to 7 vehicles with the convenience of a loop driveway for easy boat parking. For added entertainment, the retreat is fully furnished with all the essentials, from towels and linens to a well-equipped kitchen, complete with a dishwasher, stove, refrigerator, microwave, washer, dryer, and even a backup generator.
The four beautifully appointed bedrooms are complemented by additional sleeping options, including pull-out sofas and rollaway beds. Pet-friendly for a fee of $120 per pet per stay, this retreat provides a place where your four-legged family members can join in on the fun.
Situated just a 10-15 minute drive from our other Retreats, you can explore the neighboring properties and enjoy the convenience of multiple options for your vacation adventures.
Please be aware that the pool is not heated, but it's sure to be wonderfully warm in the summer months. Additionally, the accessibility of the lake can vary with changing lake levels, so we recommend checking our Lake Level Page for updates on the accessibility.
Discover a perfect blend of relaxation and recreation at this remarkable retreat. Unwind in the privacy of your own pool, take in the mesmerizing views, and enjoy the endless entertainment options at your fingertips. Book your stay today and make unforgettable memories at this splendid vacation paradise.