Reservations Now Open
Opening Feb 1st, 2024 (After Remodel Complete)
Lakefront, 2 Decks & Patio, Game Room
4 Bedroom, 3.5 bath, 2 level Home
Great Location on Daisy Lane
Marina & Boat Ramp Next Door
Sleeps 14 (1 King, 3 Queens, 3 Fulls, Sofa Bed
Max of 12 adults, 14 Total.
–  NOTE:  Up to 122 if you rent all 10 retreats
Next Door to Retreat #2 & #3. Same Street as 1, 2, 3, 4, 5 and 9.
Big Windows and Sliders looking at Lake
BBQ, Gas Firepit, Patio Tables, Hammock
Hot Tub
Game room
Air Conditioning & Heat
Two Wood Stoves
Ceiling Fans
Boat Slip during summer month available from Marina for $55
Multiple cars/boats (up to 5)
Many Games, Great Outdoor Sitting Area
Washer/Dryer
Pet Friendly
BOOK Now to lock in dates.  If you don't like final photos by December 15th, you can cancel any bookings for Feb 1, 2024 and beyond.
Note:  Lake Level Varies Greatly changing the views and access.  Check Lake Level Page.
Preliminary Photos.
These were taken Oct 28, 2023 while Remodel is Progressing. These will be updated after project complete. More Photos Below.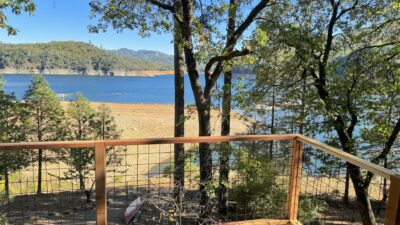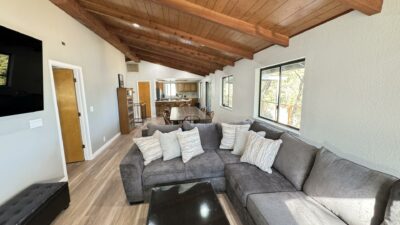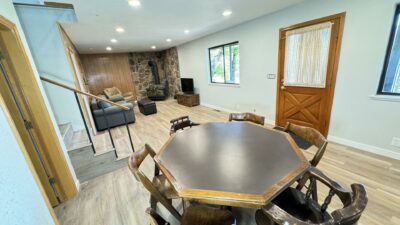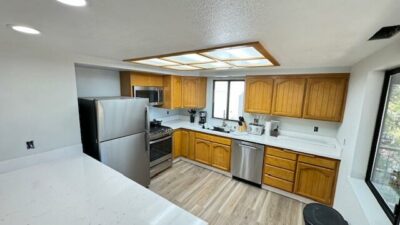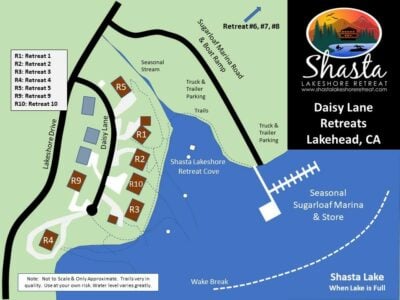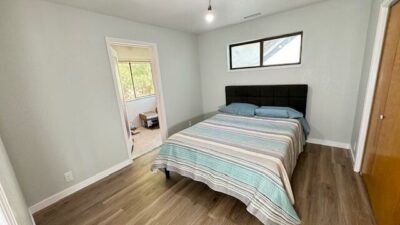 Retreat #10: Availability and Reservations
Booking Open Now, First Open Date to Stay is February 1, 2024
Photos Below are from October 28, 2023 while Remodel is continuing. We will updated the photos as we complete hte remodel. Remodel is about 85% complete. Still needs wall coverings, ceiling fans, railings on some decks, clean up of the yard, and more.
Photos are of home as Renovation Continues. These will be updated/replaced as we complete the remodel.